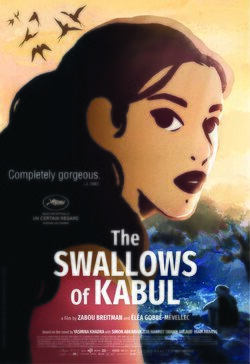 Write a review
Ranking
Ranking: 2,327 out of 16,395 movies (up 883)
Plot
It is the summer of 1998. Kabul, Afghanistan, is under the Taliban regime, which imposes laws based on the strictest version of the Qu'ran. Atiq is a jail guard that is starting to doubt if he should continue to follow the Taliban system rules. His wife Mussarat is very ill, so much so that Atiq worries for her life.Meanwhile, Zunaira and Mohsen are a young couple in love. Besides the daily violence and repression, they both dream of better future: he wants to be a teacher at a free school, whilst she is a painter that loves art. One day, a foolish gesture will change their lives irrevocably. The fate of both couples will be tangled. This is a story based on the best-selling novel 'Les hirondelles de Kaboul' written by Yasmina Khadra in 2002. The script adaptation has been done by Zabou Breitman ('Entre amis', 'Baden baden'), Sébastien Tavel and Patricia Mortagne. The story shows the daily violence: public executions, religious imposition, the strict rule of wearing the burka for the women,... This french animation film is directed by Zabou Breitman and Eléa Gobbé-Mévellec, with Breitman also writing the script. The cast includes Zita Hanrot ('Fatima', 'The Hook Up Plan'), Simon Abkarian ('Gett: The Trial of Viviane Amsalem'), Hiam Abbass ('Insyriated') and Swann Arlaud ('By the Grace of God').
Directors
Cast The Swallows of Kabul
Videos
Photos
Reviews The Swallows of Kabul
Trivia The Swallows of Kabul
The author of the novel this film is based on used the pseudonym Yasmina Kadra. His real name isMohamed Moussehoul. He hide his identity because he was in the Algerian army.
The taping of the voices was done in four days.
The taping was done in the big estudios in Joinville, in the north of France. The actors were in full costume and performed the scenes. There was a lot of improvisation in the process and the animation, that was made afterwards, took those moments thought by the actors.