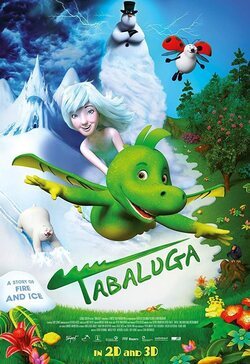 Ranking
Ranking: 368 out of 15,428 movies (up 92)
Plot
The brave dragon Tabaulga has to learn to breathe fire and has to learn from a grown-up dragon. One day, in a trip to Greenland, he knows the beautiful ice princess Lilli, and they fall in love. In order to save the world from a giant wicked snowman that wants to freeze everything up, they will have to embark on a mission in which they will deal with concepts such as fire and ice. An exciting 3D animated movie for all the family. A story about the power of friendship and the victory of love over destiny, with many plot twists, a breathtaking animation and an unforgettable soundtrack. Based on the famous TV series, the small and brave dragon and the tiny princess arrive at last to the great screen.
Director
Cast Tabaluga
Photos
Trivia Tabaluga
The film inspired by the character of the animated television series starring the dragon Tabaluga who lived in Greenland. In addition, he has starred in many books.
In its German premiere, 'Tabaluga and the Ice Princess' entered the Top 5, grossing more than 700,000 euros in its first weekend.
Steven Unterwaldt Jr., directorof the film, is used to making family films such as 'Help, I have shrunk the Teacher' (2015) or 'Siegfried' (2005).