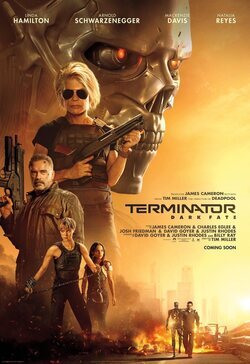 Release Dates
United Kingdom: October 23 2019
United States: October 23 2019
Ranking
Ranking: 64 out of 15,561 movies (up 254)
Plot
This new installment of Terminator marks the return of James Cameron as a producer of the franchise since 'Terminator 2: The Last Judgment' (1991). The film will again feature Arnold Schwarzenegger in his usual role as the indestructible cyborg and Linda Hamilton as Sarah Connor. She will appear to help a human (Mackenzie Davis), who is also a terminator, to protect a young woman (Natalia Reyes) who could be the key in confronting the machines. This new film ignores the three sequels in which Cameron did not participate: 'Terminator 3: Rise of the Machines' (2003), 'Terminator: Salvation' (2009) and 'Terminator: Genesis' (2015). This instalment will be directed by Tim Miller ('Deadpool').
Director
Cast Terminator: Dark Fate
Videos
Photos
Trivia Terminator: Dark Fate
Arnold Schwarzenegger has confirmed that he will be back for this sequel.
This film and 'Untitled Terminator 3' were announced 10 months before Terminator Génesis (2015) was released.
This is the second film in the current 'Terminator' trilogy.