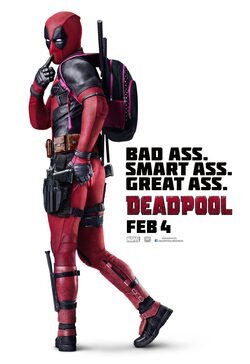 Write a review
Release Dates
United Kingdom: February 10 2016
United States: February 12 2016
Plot
Starring with Ryan Reynolds and directed by Tim Miller, this Marvel's superhero is one of the most unique characters from the comics of the House of Ideas. Unconventional and thug, the film will chronicle the life of a former Special Forces operative named Wade Wilson. However, later he became a mercenary after he was being disfigured and suffering from cancer, he is subjected to cruel experiments that give you the power to heal quickly. However, the result is not entirely successful, as it will leave horrible scars. That's when Wade becomes Deadpool and have one aim: Hunting down the person who nearly ended his life. But this righteous avenger will not be like those seen previously, well-armed, martial arts expert and has an acid, ironic and very black sense of humor, this badass anti-hero will be a nightmare for their enemies but also to allies.
Awards
Premios
Año
Nominaciones
Premios ganados
Golden Globes

2017
2
-
Director
Cast Deadpool
Videos
Photos
Trivia Deadpool
Ryan Reynolds said that 'Deadpool' will be the last comic book character he will ever portray. However, he is open to sequels.
The Deadpool costume had a muscle layer underneath, that had to be removed because Ryan Reynolds was so muscular the costume was not only too tight for him but it made him look overlarge.
This version of Deadpool differs from the one in 'X-Men Origins: Wolverine' (2009) due to the change in timeline during 'X-Men: Days of Future Past' (2014).