The Exorcist: Believer
2023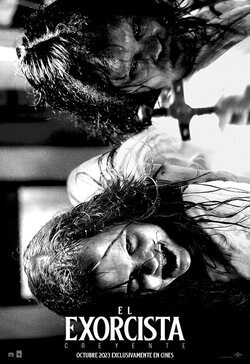 Title: The Exorcist: Believer
Original Title: The Exorcist: Believer
Year: 2023
Info
Plot
50 years after the release of 'The Exorcist', the most terrifying film seen in the big screen, a new chapter comes. From Blumhouse and directed by David Gordon Green, comes 'The Exorcist: Believer'.
Víctor Fielding is in charge of taking care of her daughter Angela after his pregnant wife died in the Haiti earthquake 12 years ago. But when Angela and her friend Katherine disappear in a forest for three days and come back not remembering a single thing of what happened to them, some terrifying events start to develop that will force Víctor to face the cusp of evil. Desperate, he decides to ask for help and contacts Chris MacNeil, the only person that has lived something similar.
David Gordon Green is the filmmaker behind the terrifying franchise 'Halloween'. In the cast we can find Leslie Odom Jr. ('Hamilton'), winner of a Tony award and nominated for an Oscar, in the role of Víctor; Lidya Jewett ('Good Girls') acts as Angela and Olivia Marcum as Katherine. The Oscar winner Ellen Burstyn comes back as Chris MacNeil for the first time since the 1973 film. Also appearing are Ann Dowd ('The Handmaid's Tale') in the role of Víctor's daughter, and also Jennifer Nettles ('Harriet') and Norbert Leo Butz ('Bloodline') as Katherine's parents.
Cast
Director:
David Gordon Green
Videos
3:02
Photos
Trivia
Easter egg
At the beginning of the movie a sculpted creature can be seen in Angela's room and it's the same creature that Regan drew with wings in the original 1973 movie
A message from William Friedkin
On William Friedkin's passing, the writer and film critic Ed Whitfield posted this message on Twitter(X) and Facebook : "William Friedkin once said to me, 'Ed, the guy who made those new Halloween sequels is about to make one to my movie, the Exorcist. That's right, my signature film is about to be extended by the man who made Pineapple Express. I don't want to be around when that happens. But if there's a spirit world, and I can come back, I plan to possess David Gordon Green and make his life a living hell.'"
Repeats the formula
David Gordon Green uses the same formula that he used for 'Halloween', where all sequels are erased, as this film will be a direct sequel to 'The Exorcist' of 1973.
Recommended movies and tv shows The Exorcist: Believer