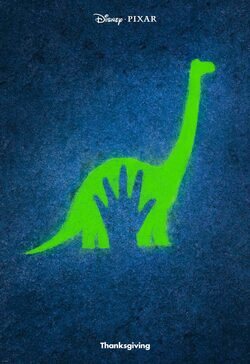 Write a review
Release Dates
United Kingdom: November 27 2015
United States: November 25 2015
Plot
Pixar and Walt Disney Pictures target again to our hearts in this emotional story called 'The Good Dinosaur'. The plot of the movie starts showing an alternate reality where the asteroid that hit the Earth and ended with the dinosaurs never crashed into our planet. Dinosaurs are still alive. One of them is Arlo, a young and very coward Apathosaurus who, after a terrible accident, is separated from his family. Arlo will do everything it takes to come back home, but the journey is very long. Luckily, during his path he will meet a human boy named Spot, who will become a very important travel mate for Arlo. The trip is full of dangers, and Arlo will have to learn to face them if he wants to reunite with his family. 'The Good Dinosaur' had a very bumpy production journey. They even decided to scrap everything halfway and start over because what they had wasn't convincing enough. The version we will watch in cinemas is directed by Peter Sohn, who wanted to put cartoonish characters into a photorealistic environment.
Awards
Premios
Año
Nominaciones
Premios ganados
Golden Globes

2016
1
-
Director
Cast The Good Dinosaur
Videos
Photos
Reviews The Good Dinosaur
Trivia The Good Dinosaur
This film marks the first time Pixar has released two films in one year, following the release of 'Inside Out' in June (2015).
The song featured in the first official trailer is Crystals by Of Monsters And Men.
Pixar Animation Studios' sixteenth feature film.