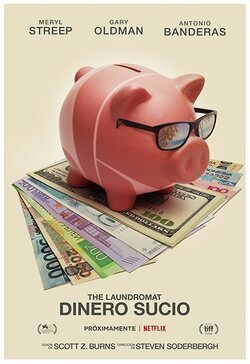 Write a review
Release Dates
United Kingdom: October 18 2018
United States: September 27 2018
Ranking
Ranking: 2,208 out of 16,407 movies (up 439)
Plot
When her holidays take an unexpected twist, Ellen Martin is sucked into investigating a sham insurance policy which leads her to discover a series of dubious deals made by Panama City law firm to help the world's already wealthiest patrons stockpile increasingly large funds. Partners in the company, Ramón Fonesca and Jürgen Mossack, are experts in fraud, using offshore accounts and other means to amass more money and make the rich even richer. Ellen barely scrapes the surface of crimes such as tax evasion, bribery and other illegal measures taken to perpertuate the corrupt financial system that dominates the modern world. 'The Laundromat' takes audiences through China, Mexico, Africa, L.A. and the Caribbean in the journey to leak this secret through the "Panama Papers". This is followed by the trail of Jürgen Mossack (Gary Oldman) and Ramón Fonseca (Antonio Banderas), two experts in tax fraud. These create fictitious companies and offshore accounts to be enriched without fraudulently. This does not suit with Ellen (Meryl Streep), a woman who discovers these fraudulent companies because of fate of destiny. Ellen's dilemma shows us the corrupt global financial system that exists, where the rich evade taxes and make bribes to maintain their position of power. The film on the Pulitzer Price winning book 'Secrecy World', by Jake Bernstein, author of another books like 'The Ultimate Day Trader' or 'The New Prosperity'. 'The Laundromat' is directed by Steven Soderbergh ('Traffic', 'Erin Brockovich' and 'Sex, Lies and Videotape') and starring Gary Oldman ('Tinker Tailor Soldier Spy' and 'Darkest Hour') and Meryl Streep ('Out of Africa' and 'The Devil Wears Prada') as the widow who desperately needs to investigate the insurance fraud.
Director
Cast The Laundromat
Videos
Photos
Trivia The Laundromat
'The Laundromat' is based in the book 'Secrecy World: Inside the Panama Papers Investigation of Illicit Money Networks and the Global Elite, by Jake Bernstein.
Actress Riley Keough was about to join the proyect, but finally could not because at that time filming 'Zola'. It would have been Keough's fourth collaboration with Soderbergh after 'Magic Mike', 'Logan Lucky' and the TV series 'The Girlfriend Experience'.
David Schwimmer, Gary Oldman and Chris Parnell starred in 'Friends'.