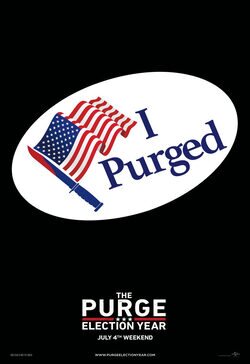 Write a review
Release Dates
United Kingdom: August 26 2016
United States: July 01 2016
Plot
Two years ago, Leo Barnes (Frank Grillo) decided not to avenge his son killing the man who assassinate him in the night of the purge. Now he is the security chief of Senator Charlie Roan (Elizabeth Mitchell) so his mission is to protect this politician as she run for president and ensure that she survives the annual ritual that offers the opportunity to kill without consequences to all those who feel the need to. Charlie's life will be endangered at the time that a betrayal forces Frank and his ward to wander through the streets of D.C. on that night in which anything goes unpunished until the sun rises. James DeMonaco writes and directs this third part of the hit horror franchise that will also feature Ethan Phillips and Terry Serpico. James DeMonaco gets back behind the scenes of the hit horror franchise, which has grossed $200 million in worldwide box office and its third installment and will feature performances by Elizabeth Mitchell ('Lost'), Frank Grillo ('Captain America: The winter soldier'), Mykelti Williamson ('Forrest Gump') and Edwin Hodge, who has been in all the franchise.
Director
Cast The Purge: Election Year
Videos
Photos
Reviews The Purge: Election Year
Trivia The Purge: Election Year
'The Purge: Election Year' takes place in the year 2025.
'The Purge: Election Year' is the sequel of 'The Purge: Anarchy' (2014) y 'The Purge' (2013).
'The Purge: Election Year' was originally set to be about the very first Purge.