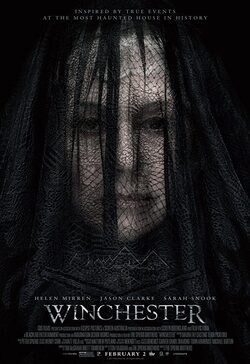 Write a review
Info
Year: 2018
Original Title: Winchester
Country: USA
Length: 99 minutes
Genre: Horror, Mistery, Biography
Studios:
Suitable only for 15 years and over
View trailer
Release Dates
United Kingdom: February 02 2018
United States: February 02 2018
Plot
Starring Helen Mirren, 'Winchester' is about all the events that took place in the mysterious Winchester Mansion, a luxury house located in San José, California, considered to be one of the scariest and most haunted places in the United States. Sarah Winchester (Mirren) was the wife of the repeating rifle's inventor, William Wirt Winchester. After the death of her husband and daughter, Sarah was convinced she was cursed and she believed she was haunted by the spirits of all the people killed by the Winchester arms. According to the legend, the only way to avoid the spirits bother her it was that she build a house whose construction never ends. 'Winchester' is directed and written by Michael and Peter Spierig.
Directors
Cast Winchester
Videos
Photos
Trivia Winchester
The promotional image for the film of Helen Mirren sitting in the carriage in mourning clothes mirrors the only known photograph of the reclusive Sarah Winchester on the estate, which is seen on the tour of the mansion in San Jose.
Sarah Winchester constantly built, and rebuilt the house for 38 years, believing if she stopped, the spirits of those killed by Winchester rifles would kill her. The Winchester house has windows and doors in the floor, doors that open into walls or nothing, and stairs to nothing or into the ceiling. She was obsessed with the number 13.
The Winchester Mystery House is an actual mansion that is located in San Jose, California. It is believed to be haunted by the victims of the Winchester rifle. It is now a tourist attraction.
Recommended