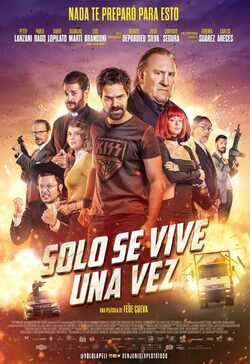 Write a review
Ranking
Ranking: 6,156 out of 16,014 movies (up 3346)
Plot
This co-production between Argentina and Spain is directed by Federico Cueva and written by Nicolas Allegro and Sergio Esquenazi. It is a comedy set in the world of organised crime. The action places Leonardo Andrade (Peter Lanzani), main character of the story, running away from three bloodthirsty characters: Duges, Lopez and Harken. In the movie, they are played by actors such as Gerard Depardieu, Santiago Segura and Hugo Silva. Leo is a hustler who, unfortunately, witnesses a murder. After keeping one the evidences of the crime scene, he will have to change identity in order to stay alive facing the persecution of this particular individuals. He will become an orthodox Jew in order to escape from them, but time is running out and his enemies are closer and closer.
Director
Cast You Only Live Once
Photos
Reviews You Only Live Once
Trivia You Only Live Once
Sergio Esquenazi is a big fan of the rock group Kiss, and he wrote the main character, Leo, as a fanatic of the group. 'I Was Made For Lovin' You', iconic Kiss song, is the music for the official trailer.
Peter Lanzani didn't use stuntmen for his action scenes.
Every explosion in this film was real, with no CGI elements.