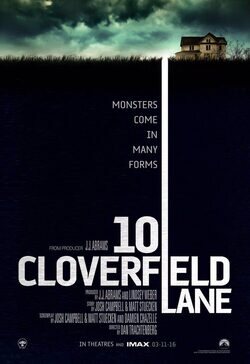 Write a review
Release Dates
United Kingdom: March 18 2016
United States: March 11 2016
Plot
A woman has a car accident, she becomes unconscious. When she recovers and wakes up, she sees that she is locked in a basement with an older man and a young man. The oldest informs her that the world has suffered a cataclysm and that the Earth has become uninhabitable and he has saved her from death due to chemical attack. However, the woman does not believe him and will make every effort to find a way out. At first the men look nice, gradually becoming the story will go dark, triggering a wild flight into the unknown and that she really want to know how her supposed savior said. Produced by J.J. Abrams and directed by Dan Trachtenberg, is considered a spiritual sequel to 'Cloverfield', not only because of the similarity of titles, but also because it will be set in the same time as the 2008 film. The movie starring Mary Elizabeth Winstead, John Goodman and John Gallagher Jr.
Director
Cast 10 Cloverfield Lane
Videos
Photos
Reviews 10 Cloverfield Lane
Trivia 10 Cloverfield Lane
Sequel of 2008 film 'Cloverfield', directed by Matt Reeves.
10 Cloverfield Lane was officially announced less than two months before its release. The film had been completed without anyone knowing.
The original title for 10 Cloverfield Lane was "The Cellar".