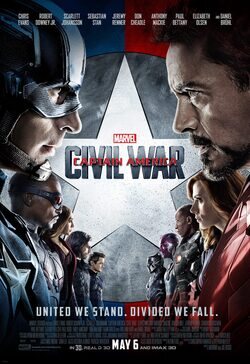 Write a review
Release Dates
United Kingdom: April 29 2016
United States: May 06 2016
Plot
'Captain America: Civil War' is the third installment of Captain America. After the events of 'Avengers: Ultron era', the government decided to act. An incident in which the Avengers are involved that will endanger society, will be the decisive factor for the government to take action. The decision to implement a control system for people with superpowers like the Avengers, fracture this group of superheroes. On one hand we have Steve Rogers, a hero who decides to rebel against the government and its measures to support his friend Bucky, a character that will be another major focus of the film. And on the other side is Tony Stark, who will lead the side that favors the superhero registration to ensure the safety of all. In addition to Chris Evans and Robert Downey Jr, the movie will have a long list of superheroes. Sebastian Stan as The Winter Soldier, Anthony Mackie as Falcon, Jeremy Renner as Hawkeye, Scarlett Johansson as Black Widow, Don Cheadle as War Machine, Paul Bettany as Vision, Chadwick Boseman as Black Panther, Elizabeth Olsen as Scarlet Witch and Tom Holland as Spider-Man.
Directors
Cast Captain America: Civil War
Videos
Photos
Reviews Captain America: Civil War
Trivia Captain America: Civil War
Daniel Brühl, actor who plays Baron Zemo, said that the budget of this film is so large that you can make 20 films from it.
In the film, the Falcon utilizes a falcon drone called Redwing. In the mainstream Marvel comics, Redwing was an actual falcon, which was Sam Wilson's pet.
This film marks the first appearance on the big screen of the superhero Black Panther, who is portrayed by the actor Chadwick Boseman.