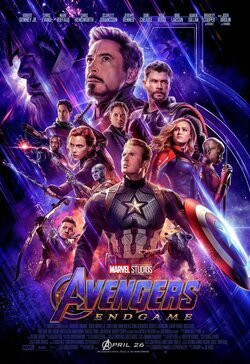 Write a review
Release Dates
United Kingdom: April 25 2019
United States: April 25 2019
Plot
Twenty-three days after Thanos wielded the Infinity Gauntlet, wiping out half of the population, the remaining avengers assemble to try and find Thanos and use the Infinity Stones to reverse "the Snap". When their efforts fail, the avengers fade over the next five years, disheartened by the lost of their friends and loved ones. Five years later, Scott Lang escapes from the quantum realm, in which he experienced time far more slowly than in our dimension. Emboldened by his discovery, he convinces Steve Rogers and Natasha Romanoff to look into the possibility of time travel as a means of preventing Thanos from ever obtaining all six stones and, thus, from ever causing "the Snap" at all. Though Tony Stark seems to have moved on with his life by settling down and starting a family of his own, his guilt over Peter Parker's death also ignites the possibility of mind travel in the enigmatic inventor's mind. Before long, the avengers will band together to traverse continents, space and time to save those lost in Thanos's pursuit of power, in this epic and ambitious crossover that has been building since the 2012 film 'The Avengers'. 'Avengers: Endgame' is directed by the Russo brothers, Anthony and Joe Russo. Forming the expansive and star-studded cast are Robert Downey Jr., Chris Evans, Mark Ruffalo, Chris Hemsworth, Scarlett Johansson, Jeremy Renner, Don Cheadle, Paul Rudd, Tom Holland, Chadwick Boseman, and many more.
Awards
Premios
Año
Nominaciones
Premios ganados
Academy Awards (Oscars)

2020
1
-
BAFTA Awards

2020
1
-
Directors
Cast Avengers: Endgame
Videos
Photos
Reviews Avengers: Endgame
Trivia Avengers: Endgame
This is not Marvel's Cinematic Universe last film, since there is still a Phase Four, and the actors are extending their contracts.
Evangeline Lilly and Paul Rudd were filming 'Ant-Man & The Wasp' (2018) and this film at the same time.
The first official trailer for the film is the first video in YouTube history to reach over 1 million likes in less than 4 hours.