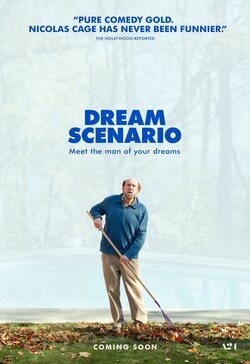 Plot
'Dream Scenario' is an American comedy written and directed by Kristoffer Borgli. The film stars actor Nicolas Cage, who also produces the film with Ari Aster and Lars Knudsen under the banner Square Peg. Production company A24 bought the rights of the film and is also in charge of US distribution of the movie, which premiered at the Toronto Film Festival.
Paul Matthews (Nicolas Cage) is a
middle-age man with a monotonous and boring life
who works as a professor at Osler University. At home, his wife leads their relationship and people make fun of him for being so boring, but his life is about to change without him knowing.
Suddenly, Paul becomes worldwide famous for a peculiar motive: millions of people start seeing him in their dreams. The good man instantly becomes a celebrity without wanting it, and 'Dream Scenario' explores precisely the relationships of a regular person with fame. Also how this fame transforms him and he has to assume other people's perceptions of him even if they are not true. And what happens when dreams become nightmares...
'Dream Scenario' has been widely beloved by critics, particularly Nicolas Cage's work, already seen as one of his performances in all of his career.
Listings
'Dream Scenario' is showing in 1 today, including:
Cast
Director:
Kristoffer Borgli
Videos
2:24
Photos
Trivia
Was going to be for Adam Sandler
At fist, Kristoffer Borgli wrote the film script and Ari Aster was going to direct, having chosen Adam Sandler for the main role. However, after Borgli's last film success, A24 deciden to let him direct his own script and he wanted Nicolas Cage on the main role.
Based on a "true" story?
The story has sort of a base in some reports that went viral in 2009, after a website was affirming that more than 3000 people have dreamt with the same person. Although the invention had some popularity by then, it was soon debunked and revealed to be a guerrilla marketing campaign from Italian publicist Andrea Natella.
Recommended movies and tv shows Dream Scenario