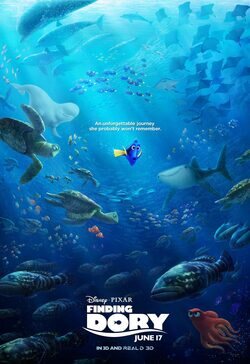 Write a review
Release Dates
United Kingdom: July 29 2016
United States: June 17 2016
Plot
Andrew Stanton and Angus MacLane bring us back to the universe that gave us many happy memories with that of 'Finding Nemo' in 2003. The film will show us the origins of Dory and take us on an adventure to discover who is the family of the forgetful fish in the ocean. The film is set six months after the events in 'Finding Nemo', Dory in a fit of lucidity remembers some memories of her past, causing her to question who she is. As a result, she embarks on an adventure with Marlin and Nemo to join the pieces together. However, a problem arises when Dory is caught by the Institute of Marine Life of Monterrey, making it more complicated to fulfill her mission. There, she will meet new friends who will help her to escape, including a white beluga whale called Bailey, Destiny, a whale shark and Hank, a peculiar octopus. With the help of all marine friends, Dory seek to get to the bottom of her memory. The film comes 13 years after the original release of 'Finding Nemo', where Angus MacLane replaced Lee Unkrich in as director. Do you dare to embark on this new marine adventure?
Awards
Premios
Año
Nominaciones
Premios ganados
BAFTA Awards

2017
1
-
Directors
Cast Finding Dory
Videos
Photos
Trivia Finding Dory
This movie was originally scheduled to be released on November 25, 2015. After Pixar's other movie 'The Good Dinosaur' was pushed back to that date, this movie was pushed back as well.
Hayden Rolence replaces Alexander Gould as the voice of Nemo, due to having outgrown his original role in 'Finding Nemo'.
'Finding Dory' was first announced by Ellen DeGeneres, who voices Dory, on her talk show following a long campaign for a sequel.