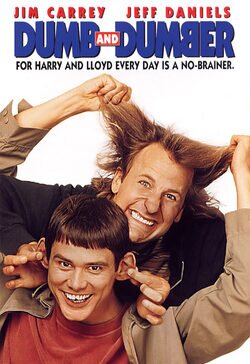 Write a review
Release Dates
United Kingdom: April 07 1995
United States: December 16 1994
Plot
Lloyd and Harry are great friends because they feel really identified based on their personality and their behavior towards the rest of society. The first is a driver of limousines and the second dog carrier, both of whom are quite satisfied with the profession they are practicing, taking into account the numerous difficulties they experienced in overcoming their studies. Lloyd feels a sudden love for a sophisticated passenger who has forgotten a briefcase in the limousine: convince Harry to undertake an absurd journey in search of his beloved. Peter and Bobby Farrelly ('The Three Stooges', 'Hall Pass') are responsible for directing this story, with the collaboration of Bennett Yellin to develop the script of the film.
Directors
Cast Dumb & Dumber
Photos
Trivia Dumb & Dumber
Lloyd's role was rejected by both Steve Martin and Martin Short, with Jim Carrey finally being the actor chosen to play that character in the film.
When Harry and Lloyd are in the car, Lloyd asks if he wants to hear the most annoying sound in the world. This was not originally in the script (you can be sure by looking at the look on Jeff Daniels' face).