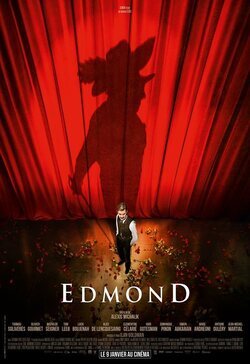 Ranking
Ranking: 6,599 out of 15,398 movies (up 760)
Plot
Paris, 1897, the age called "Belle Époque". Edmond Rostand is a promising playwright with talent and big dreams. However, all he has written until now has been a failure, to the point of suffering total creative paralysis. Thanks to her admirer, the great actress Sarah Bernhardt, Edmond has the immense luck of making acquaintance with the best actor of their time, Constant Coquelin, who insist repeatedly in performing somewhere in his next play. And, in case of that is not enough, he wants to launch it in three weeks top. A big problem grow in Edmond: he does not have the play written. In fact, he does not even know what it is about. The only thing he perfectly know and believe is untouchable is the title: "Cyrano of Bergerac".
Director
Cast Edmond
Videos
Photos
Trivia Edmond
'Cyrano de Bergerac' is one of the plays most famous in all France. It has adaptations in opera, ballet, comic books and of course films, being the adaptation of Jean-Paul Rappeneau with Gérard Depardieu as the protagonist the most famous.
'Edmond' is a project that Alexis Michalik has been wearing for more than fifteen years. The first hit came in 1999, when he saw 'Shakespeare In Love'.
'Edmond' was shot in the Czech Republic and especially in Prague, where Alexis Michalik and his team disguised the streets to recreate those of Paris in the late nineteenth century.