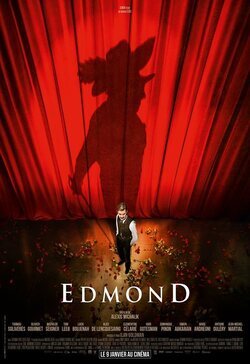 Write a review
Ranking
Ranking: 1,559 out of 16,026 movies (up 205)
Plot
December 1897 in Paris, the age called "Belle Époque". Edmond Rostand is a promising and talented playwright who has not had a lot of luck during his career. Everything he has written until that very momento has been a completely failure. That has taken him to suffer a total creative paralysis that does not allow him to write anything. Thanks to one of his admirers, the great actress Sarah Bernhardt, Edmond has the possibility to meet the best actor of the moment, Constant Coquelin. At the moment of meeting him, Coquelin asked him what kind of plays he is writing. Edmond, depending in which answer gives the actor, drives the conversation to one idea that maybe he can work on: the play Cyrano of Bergerac. Coquelin encourages him to write it as soon as possible. The problem is Edmond does not even know what story is behind that title. Despite that, everybody thinks it is going to big a masterpiece. The movie is an adaptation of the play 'Edmond' from the own director. It is directed by Alexis Michalik ('At Eternity's Gate', 'Le chant du loup') e interpretada por Thomas Solivérès ('Plonger', 'Les aventures de Spirou et Fantasio'), Olivier Gourmet ('Un peuple et son roi', 'Une intime conviction') y Mathilde Seigner ('Ni une ni deux', 'Ibiza'), among others. Hide full plot... Show full plot
Director
Cast Edmond
Videos
Photos
Trivia Edmond
The transformation of Thomas Solivérès into Edmond began with the mustache and then the hairstyle, which was not obvious. This character was losing hair while the young comedian has a lot.
'Cyrano de Bergerac' is one of the plays most famous in all France. It has adaptations in opera, ballet, comic books and of course films, being the adaptation of Jean-Paul Rappeneau with Gérard Depardieu as the protagonist the most famous.
'Edmond' is a project that Alexis Michalik has been wearing for more than fifteen years. The first hit came in 1999, when he saw 'Shakespeare In Love'.