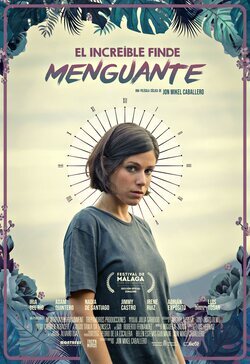 Write a review
Ranking
Ranking: 1,382 out of 15,992 movies (up 1100)
Plot
Alba is trapped in an eternal teenage age, she still lives with her fathers and has no future plans. Alba travels with her friends to a cabin in the woods to enjoy a weekend together, but what was supposed to be a simple friends party in the first place, soon is going to become in an endless omen. As if this was Groundhog Day, the events keep on repeating all the time, but this time the end of each loop arrives one hour earlier every time. What at the beginning is presented as a wide range of changing possibilities, it will finally become a narrow corridor in which is going to be really tough to keep on. Alba will have to decide before everything ends which kind of person she wants to become, even if after the loop her life ends or if it resumes as if nothing had happened.
Awards
Premios
Año
Nominaciones
Premios ganados
Feroz Awards

2020
1
-
Cast El increíble finde menguante
Photos
Reviews El increíble finde menguante
Trivia El increíble finde menguante
?El increíble finde menguante? is inspired by the titles 'Groundhog Day', 'Eternal Sunshine of the Spotless Mind' or 'About Time', where the time loops are the context of this generational story with a countdown in between.