Five Nights at Freddy's
2023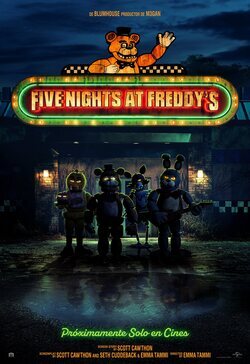 Title: Five Nights at Freddy's
Original Title: Five Nights at Freddy's
Year: 2023
Info
Release Dates
UK: October 25 2023
United States: October 27 2023
Plot
The film tells the story of Mike Schmidt, a young man who, in desperate search for work, finds the peculiar position of security guard at an abandoned food establishment called Freddy Fazbear's Pizza. The restaurant was an entertainment venue in the 80's, but then it closed and the owners still don't want to sell it.
The job that at first seemed simple, just checking the establishment's security cameras at night, will become a true horror when the animatronic mascots that characterize it come to life and stalk the protagonist. The night will be long and he must face those terrifying murderous animals to survive.
Blumhouse, responsible for productions such as 'M3GAN', 'Black Phone' and 'The Invisible Man', comes to the big screen thanks to Scott Cawthon, creator of one of the most terrifying and successful horror video games of recent times, 'Five Nights at Freddy's'.
Josh Hutcherson ('The Hunger Games', 'Ultraman') is the actor who plays the protagonist in this adaptation of the famous and chilling video game. Also starring are Elizabeth Lail ('Mack & Rita', 'You'), Piper Rubio ('Holly & Ivy', the series 'Unstable') and Kat Conner Sterling ('We Have a Ghost', the TV series '9-1- 1'), with Mary Stuart Masterson ('Blindspot', 'Fried Green Tomatoes') and Matthew Lillard ('Good Girls', 'Scream').
Cast
Director:
Emma Tammi
Videos
1:59
Photos
Recommended movies and tv shows Five Nights at Freddy's