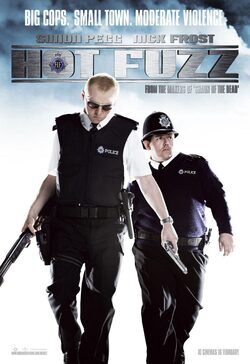 Write a review
Release Dates
United Kingdom: February 14 2007
United States: April 20 2007
Plot
Nicholas Angel is without doubt the best cop in London. Their arrests exceed 400% to the second best agent in the corps. So good that, compared to him, any cop is bad. So his superiors send him to a place where his talents will not put anyone in evidence, to Sandford, a seemingly sleepy and peaceful village. Upon arrival, a partner is assigned to him, the well-meaning but overeager Danny Butterman, son of amiable Police Chief Frank Butterman. Danny is a great fan of action movies and believes his new partner of the police elite is a real "bad guy" and that this will be his opportunity to live gunfire and persecutions that yearn. But Nicholas Angel is soon to say that childish fantasy when the growing enthusiasm of Danny eventually get him crazy. However, the relationship between the two will narrow when problems arrive.
Director
Cast Hot Fuzz
Photos
Trivia Hot Fuzz
His director Edgar Wright and his two protagonists, Simon Pegg and Nick Frost, had worked together before in the film 'Shaun of the Dead' and the TV series 'Spaced'.
Wright developed the script with Pegg, and said he wanted to write and direct a "buddy cop" film because "there is no tradition of such films in the UK ... We think that all the other countries have a own tradition with regard to these action movies and we do not".
Before starting the script, the two authors saw nearly 140 cop films and made about 50 interviews with law enforcement professionals.