The Hunger Games: The Ballad of Songbirds and Snakes
2023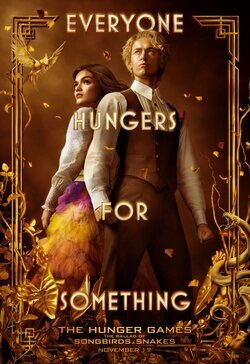 Title: The Hunger Games: The Ballad of Songbirds and Snakes
Original Title: The Hunger Games: The Ballad of Songbirds and Snakes
Year: 2023
Info
Release Dates
UK: November 17 2023
United States: November 17 2023
Plot
The story centers on a young Coriolanus Snow, played by Tom Blyth, who before becoming President of Panem in 'The Hunger Games', was a simple student chosen as a mentor in the tenth Hunger Games. Unfortunately for him, he is assigned to the female tribute of District 12. The chosen one is Lucy Gray Baird, an apparently fragile girl, without much chance of winning. But she and Coriolanus will discover the potential of the bloodthirsty competition that no one had seen until now.
Rachel Zegler, star of the remakes of 'West Side Story' and 'Snow White', has been chosen as the new protagonist of the prequel to 'The Hunger Games', which will
adapt the novel of the same name published by Suzanne Collins in 2020
. The film It has Francis Lawrence, director of the last three installments of the saga, once again responsible.
Zegler will reunite with a fellow 'West Side Story' castmate, Josh Andrés Rivera, who will play Sejanos Plinth, the District 2 tribute's mentor and a good friend of Coriolanus Snow.
Ashley Liao, Mackenzie Lansing, Jerome Lance, Knox Gibson and Aamer Hussain have also joined the cast, along with 'Euphoria' star Hunter Schafer and 'Game of Thrones' star Peter Dinklage. The actress will play Tigris Snow, Coriolanus Snow's cousin who advises him on everything from his role as a mentor to being the core of his moral compass. The actor, for his part, will be Casca Highbottom.
Cast
Director:
Francis Lawrence
Photos
Trivia
Emma Watson in the cast
Emma Watson was considered for the role of Tigris Snow.
Formato especial
This is the second film in the Hunger Games saga that has the special 1:90.1 format.
Delayed premiere
After the delay of 'Dune: Part 2' (2024), it is expected that their release would be delayed until 2024 due to the impact of the SAG-AFTRA strike that prevents actors from promoting, interviewing and attending the film's premiere. However, Lionsgate wanted to keep the original date.
Recommended movies and tv shows The Hunger Games: The Ballad of Songbirds and Snakes