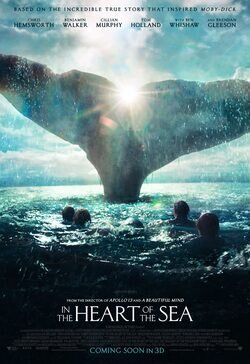 Write a review
Release Dates
United Kingdom: December 26 2015
United States: December 11 2015
Plot
Ron Howard is the director of 'In the Heart of the Sea'. It is based on true events that inspired north-american author Herman Melville to write one of his most famous books 'Moby Dick'. Nathaniel Philbrick wrote the nameshake book about this true event and it was adapted as a cinematographic script by Charles Leavitt. In the winter of 1820, the New England whaling ship Essex owned by Captain George Pollard, Jr. (Benjamin Walker) and his First Mate Owen Chase (Chris Hemsworth) was assaulted by something no one could believe: a whale of mammoth size and will, and an almost human sense of vengeance. 'Heart of the Sea' reveals the encounter's harrowing aftermath, as the ship's surviving crew is pushed to their limits and forced to do the unthinkable to stay alive. Braving storms, starvation, panic and despair, the men will call into question their deepest beliefs, from the value of their lives to the morality of their trade, as their captain searches for direction on the open sea and his first mate still seeks to bring the great whale down.
Director
Cast In the Heart of the Sea
Videos
Photos
Reviews In the Heart of the Sea
Trivia In the Heart of the Sea
Part of this movie was shot in the Canary Islands. Moby Dick, directed by John Huston, was also shot in the Canaries
The movie was originally scheduled for release in March 2015. It was moved to a December 2015 release as an Oscar contender.
Reunites cast members Cillian Murphy, Paul Anderson and Charlotte Riley, who all appeared in 'Peaky Blinders' (2013).