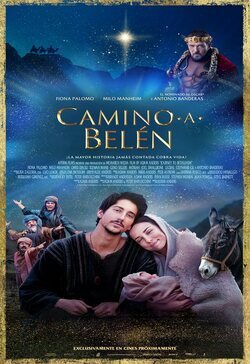 Title: Journey to Bethlehem
Original Title: Journey to Bethlehem
Year: 2023
Info
Release Dates
UK: November 17 2023
United States: November 10 2023
Plot
'Journey to Bethlehem' is a musical adaptation of the biblical story of the birth of Jesus. Combining classic Christmas songs and original modern pop, the film weaves together the perspectives of brave young Maria (Fiona Palomo); her compassionate fiancé, José (Milo Manheim); the jealous and vengeful King Herod (Antonio Banderas); and Herod's troubled son Antipater (Joel Smallbone). There is some danger and violence, as well as brief moments of shame, betrayal, and confusion over Maria's pregnancy. Joseph and Mary flirt, holding hands, hugging, kissing each other on the cheek and, in one scene, briefly kissing each other on the lips. In a musical number, two versions of José fight each other.
Herod orders his son to search for all the pregnant women and newborn babies in Bethlehem and
kill them if he does not find the prophesied future king.
Herod's soldiers threaten and arrest the citizens, and are known to He tortures them. The king also drinks wine, and there is a joking reference to the donkey's other name ("ass"). Although the film deals with themes such as
compassion, empathy, teamwork and perseverance
, it falls a little short in terms of representation, as the ancient people of the Middle East are portrayed in their majority by white European and American actors.
Cast
Videos
2:29
Photos
Trivia
Same locations
Shares locations with exodus.
Distribution
One of a handful of smallish budget films made by Affirm Films that Sony Pictures distributed that have a strong Christian or moral themes to them.
Recommended movies and tv shows Journey to Bethlehem