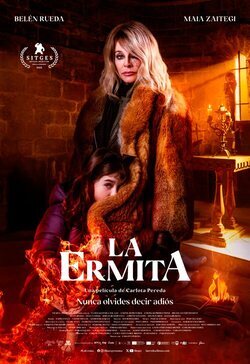 Title: La ermita
Original Title: La ermita
Year: 2023
Info
Country:

Spain

Language: Spanish
Length: 103 Minutes (1 hour 43 min)
Genre: Horror
Distributor: Filmax
Plot
Emma, played by Maia Zaitegi, wants to learn to communicate with the spirit of a girl who has been trapped in her town's hermitage for centuries. She tries to convince Carol, played by Belén Rueda, a disbelieving and false medium, to teach her how to talk to ghosts. Her help will be the only way to remain united with her sick mother when she dies. If Carol doesn't protect her, Emma's life will be in danger.
This horror film is directed by
Carlota Pereda
, winner of the
Goya award for best short film
for 'Cerdita'. Pereda's quick return to terror has not been through a personal project as was the previous one, but rather a commission proposed by Filmax. The producer and distributor has bet heavily on the director as one of its flagships to bring forward genre films, a specialty of a house that is celebrating its 70th anniversary.
Pereda thus travels from Extremadura to the Basque Country, thanks to Bixagu Entertainment, where this film is set that unites legends and darkness from the times of the Black Death of the 17th century with paranormal experiences of the 21st century, whether real or not. The hermitage, a small Christian sanctuary normally located in rural areas, is the appropriate spatial reference for these times in which Spanish cinema has decided to leave the big cities.
Cast
Director:
Carlota Pereda
Videos
1:27
Photos
Recommended movies and tv shows La ermita