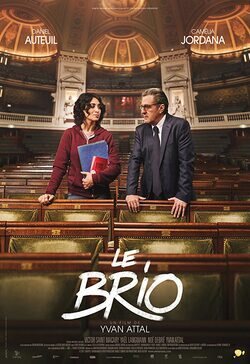 Write a review
Plot
The young Argelian woman Neïla Salah (Camélia Jordana) has lived all her live in one of the suburbs situated in the limits of Paris, and she has always wanted to become a lawyer. When she finishes her high school education, she is accepted into a major university of the city. During her first day she is confronted by Pierre Mazard (Daniel Auteuil), a profesor with the fame of saying polemic comments. After the incident and once he is accused of being a racist, the university rector intervenes and asks Mazard to do something to redeem himself, so he entrust the profesor to train Neïla for the prestigious speech contest she is in. This drama film is directed by Yvan Attal and will be released in Spanish film theaters next March 28th, 2018.
Director
Cast Le brio
Neïla Salah
Pierre Mazard
Videos
Photos
Trivia Le brio
Slender Man es originated from the German tale "Der Großmann".
A substantial part of the film was shot in the premises of the University Pantheon-Assas, the Sorbonne, near the Pantheon, as well as in the Library Sainte-Geneviève, in the 5th arrondissement of Paris.