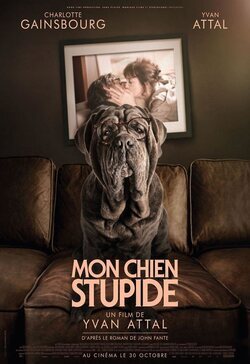 Write a review
Ranking
Ranking: 6,639 out of 16,395 movies (up 1159)
Plot
Henri is a fifty-year-old man in the midst of a deep midlife crisis. The protagonist played by Yvan Attal wrote a book twenty-five years ago that was an international stir, won almost all the premises of literature and became a bestseller. Since then, he only writes content of poor quality because he believes that his life has stagnated in monotony. For him, those responsible for all his failures and that his life goes from bad to worse are his wife Celine and their four children, who neglect and reject their father figure very much. Just when things can not get worse, an unexpected friend appears in his life: a dog of a meter and a half, with great enthusiasm and without any shame, makes Henri lose his head at all and explode before his personal failure. The family tries to throw him out of the house, without any success, so that the dog will stay to live with them and will end up becoming a friend for Henri, a friend who will help him realize what he has and value it accordingly. He realizes that his family is the only thing he has and the only thing that makes him happy. The film is directed and starred by Yvan Attal (director of 'Le brio' and actor of 'Munich' or 'Rush Hour 3'), along with Charlotte Gainsbourg as his unhappy wife.
Director
Cast My Dog Stupid
Photos
Trivia My Dog Stupid
Yvan Attal not only directs and stars in the film, but he is also the writer.
The film is based on 'Mon chien stupide', a book by John Fante.
Yvan Attal and Charlotte Gainsbourg, couple in the movie, are also a couple in real life. In addition, the couple has three children: Ben, Alice and Joe.