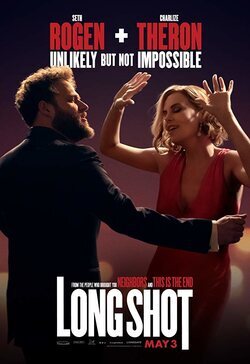 Write a review
Release Dates
United Kingdom: May 03 2019
United States: May 03 2019
Ranking
Ranking: 1,916 out of 16,288 movies (up 2117)
Plot
Fred Flarsky (Seth Rogen) is a free-spirited journalist who loves nothing more than pushing people's buttons and taking everything to the limit, even infiltrating a White Power group for a news story. When a conservative businessman (Andy Serkis) buys out his publication, Fred's commitment to journalistic integrity leads to him quitting the post he loves and drowning his sorrows in beer and drugs with his friend, Lance (O'Shea Jackson Jr.) When Fred and friends attend a fundraiser, Fred runs into his childhood babysitter and current Secretary of State, Charlotte Field (Charlize Theron). Charlotte reveals to Fred that she was recently told by the current president (Bob Odenkirk) that he, a former TV star, wishes to return to Hollywood and won't run for office in 2020. Charlotte and her team, headed by Maggie Milliken (June Diane Raphael), are working hard to create an image of Charlotte that will win her votes as she sets up her campaign, which is focused on a more environmentalist approach. Together, they remind each other of who they used to be before images got in the way and before either of them knew of a world in which conservatism could buy out voices and women had to pretend to be somebody else to succeed. 'Long Shot' is directed by Jonathan Levine and written by Dan Sterling and Liz Hannah.
Director
Cast Long Shot
Photos
Trivia Long Shot
A reference is made to 'Black Panther' (2018), a film that Andy Serkis is in.
The sporty blue jacket that Seth Rogens wears in the movie was used during the 80's by Belgium athletics teams. In it it's written "Looise A.V" which stands for "Looise Atletiek Verenigin" o "Looise's atlethics club".
It is shown a picture of Jennifer Lawrence to make a comparative with Charlotte. Charlize Theron and Jennifer Lawrence starred together in The Burning Plain, in which they played the young and the adult versions of the same character respectively.