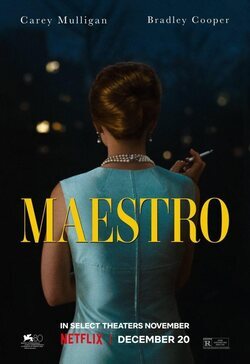 Title: Maestro
Original Title: Maestro
Year: 2023
Info
Release Dates
UK: November 22 2023
United States: November 22 2023
Plot
'Maestro' is the new movie starring and directed by Bradley Cooper for Netflix. It is a biopic about Leonard Bernstein, which will depict his extensive love story with Felicia Montealegre over the years.
Leonard Bernstein was an American composer, pianist, and conductor. Among his most notable creations are the musical 'West Side Story' and the soundtrack of 'The Silent Law'.
After 25 years of marriage, the couple separates and Bernstein begins an affair with Tom Cothran. After this event, the musician was very open about his sexuality. One year after ending his relationship with Montealegre, the woman found out that she had lung cancer.
His ex-wife's illness is what makes the composer return to her side to accompany her until her last day of life. Felicia's death will cause a big change in Bernstein, something that will also be represented in his music.
Leonard Bernstein is played by Bradley Cooper and Felicia Montealegre by Carey Mulligan. The cast includes Maya Hawke ('Stranger Things', 'little Women') , Sam Nivola, Alexa Swinton, Gideon Glick, Matt Bomer ('In Time', 'Magic Mike') and Sarah Silverman ('¡Wreck-it Ralph!', 'School of Rock') .
The producers are Steven Spielberg and Martin Scorsese.
Cast
Director:
Bradley Cooper
Videos
2:44
Photos
Recommended movies and tv shows Maestro