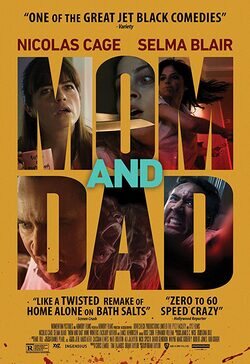 Write a review
Release Dates
United Kingdom: March 09 2018
United States: January 19 2018
Plot
Can you imagine a parallel universe in which parents attack their children violently and for no reason? For this reality has reached our plane. Apparently, a mysterious epidemic of unknown origin has taken over all adults and has since cause wide-spread madness. Carly (Anne Winters) and Joshua (Zackary Arthur) are two children who are tasked with trying to survive the seemingly long day all while fleeing those who once were their loving and caring parents: Brent Ryan (Nicolas Cage) and Kendall Ryan (Selma Blair). The film is directed and written by Brian Taylor ('Ghost Rider: Spirit of Revenge', 'Gamer', 'Crank - High Voltage'). Just what has caused the outrage amongst the parents? Will Carly and Joshua ever survive the day to find out?
Director
Cast Mum and Dad
Videos
Photos
Trivia Mum and Dad
The premiere was at the Toronto Film Festival at 11:59 pm on September 9.
The student/teacher running scene was filmed at St. Xavier High School in Louisville, KY.
Nicolas Cage returns to be under the orders of Brian Taylor after 'Ghost Rider: Spirit of Vengeance'.