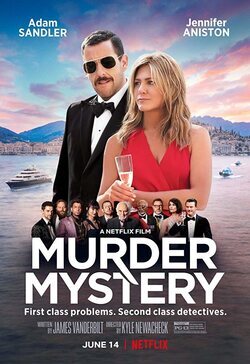 Write a review
Release Dates
United Kingdom: June 14 2019
United States: June 14 2019
Ranking
Ranking: 3,560 out of 16,374 movies (up 3586)
Plot
NYPD Officer Nick Spitz (Adam Sandler) panics at his 15th anniversary dinner to his wife Audrey (Jennifer Aniston) and tells her two lies: the first, that he passed his detective exam when he in fact failed, and the second, that he is finally taking her on their long overdue honeymoon to Europe. On the flight that Nick hastily booked, Audrey meets the wealthy Charles Cavendish (Luke Evans), who invites the couple to a yacht party hosted by his uncle Malcolm Quince (Terrence Stamp), who has just married Charles's much younger ex-fiance Suzi Nakamura (Shioli Katsuna). At the celebration aboard Malcolm's yacht, he announces that they are all shameless gold-diggers and so he intends to write a new will, leaving them all out of it and bestowing all his worldly possessions upon his wife. Just before Malcolm can sign the will, however, the lights go off and a gunshot sounds, and when the chaos is over, the party realises that Malcolm has been killed. When Inspector Laurent Delacroix (Dany Boon) arrives to question the party and everyone says that they suspect Nick and Audrey, the couple must band together to prove their innocence and work on their marriage, all whilst evading Malcolm's true killer. 'Murder Mystery' is written by James Vanderbilt and directed by Kyle Newacheck.
Cast Murder Mystery
Videos
Photos
Trivia Murder Mystery
Actress Charlize Theron was about to enter the project.
It's the second movie made by Adam Sandler and Jennifer Aniston toghether. The first one was 'Just Go with It'.
The film is directed by Kyle Newachek, produce of other Netflix films as 'Package' or 'Game Over, Man!'.