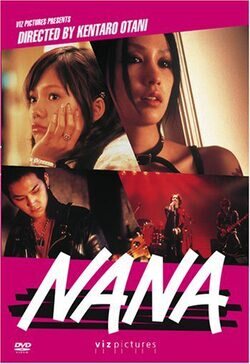 Write a review
Release Dates
United States: April 04 2008
Ranking
Ranking: 10,839 out of 16,288 movies (up 612)
...
Be the first to score this movie!
Plot
Two girls meet on a train headed for Tokyo. The bubbly girl in white is named Nana and she sits next to a black clad rock girl named Nana as well. Although their names are the same, their lives are completely different. One of them is an ambitious punk who is looking to break into the world of rock and roll, while the other simply wants to have a new life with her boyfriend. They talk briefly and seem to share some common bond, before leaving for their own seperate ways. When bubbly Nana looks at an apartment for rent in Tokyo, of course black clad Nana would be there and wants to rent the same apartment. Instead of trying to decide who should get the apartment they decide to share the apartment as roommates. From there their bond grows closer as they help each other deal with their own personal problems. Based on events in the manga by Ai Yazawa.
Director
Photos
Trivia Nana
In the story, since both main characters have the same first name, to differentiate one Nana to the other, Nana Osaki affectionately called Nana Komatsu "Hachi", because she thinks Nana Komatsu behaves like a dog, faithful but sometimes annoying. This is actually a play of word. The female name "Nana" is a homonym of the Japanese word "nana" that means "seven", and while "Hachi" is a common dog name in Japan, it is also a homonym of the word "hachi" that means "eight".