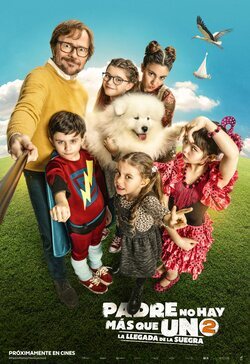 Write a review
Ranking
Ranking: 11 out of 16,123 movies (up 6)
Plot
'Padre no hay más que uno 2' is the sequel to the great success of the Spanish 2019 summer box office 'Padre no hay más que uno', with Santiago Segura repeating as director and protagonist. In the same way Toni Acosta plays the mother and Leo Harlem and Silvia Abril play the brothers-in-law. Younger actors also play the same characters, in this case the all of the children in the film. This second part comes full of surprises for the most popular family in the country. After the triumph of the acquisition of the virtual assistant whose name is 'Conchy', the character of Javier (Santiago Segura) has become the leader and responsible of the WhatsApp group of mothers of the school, so everything seems to go on wheels. In this moment when it seems that he has everything under control, bad news again turns his world upside down and he will have to show and prove the kind of father he is in front of everyone else. The script, again, is written by Santiago Segura himself and Marta González de Vega (who returns to play Leticia) and the locations are divided between Toledo and Madrid. The premiere of this movie is scheduled for July 17, 2020 on the big screen and will be available shortly thereafter on the Amazon Prime Video streaming platform.
Director
Cast Padre no hay más que uno 2
Photos
Reviews Padre no hay más que uno 2
Trivia Padre no hay más que uno 2
Sony confirmed the 2019 film sequel at the end of the summer while it was still on cinemas, in order to release the next installment one year after and not be so hard with the look of the children.
The locations chosen to shoot this sequel are divided between Madrid and Toledo.
Calma Segura and Sirena Segura, daughters of the director of the film, participate in this sequel as they did with the original film since Javier's story is somewhat autobiographical according to Santiago Segura.