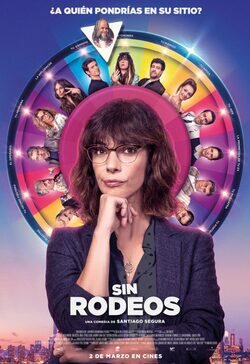 Write a review
Plot
Paz's life is perfect: she has a job, boyfriend and friends. However, there is something that is going wrong. She does not aprreciate the world around her. She feel anxiety and stress but is not available to speak of her feelings. One day she go to a very peculiar therapy that makes her say everything without beating around the bush. She is going to put everybody in their place and say the truth the face. 'Sin Rodeos' is directed by the famous actor and director, Santiago Segura, knwon as 'Torrente'. And is played by Maribel Verdú ('Abracadabra'), Toni Acosta ('Mi gran noche'), Diego Martín ('Tenemos que hablar'), Candela Peña ('Kiki, el amor se hace') and Cristina Castaño ('Caribe Mix'). Is a story where Santiago tell since his particular way, the woman empowerment.
Director
Cast Sin rodeos
Photos
Trivia Sin rodeos
'Sin rodeos' will be cinematic dubut of the famous Spanish tv host Cristina Pedroche.
Maribel Verdú is the film's leading role. Thanks to the trailer we know she will say something like "I'm tired of likes, influencers, hashtags and viral videos...". She will make several radical decisions due to her tired and supposed perfect life.
The filmmaker Santiago Segura said he "wanted to make a comedy in which the audience could empathize and feel identified with the main character"