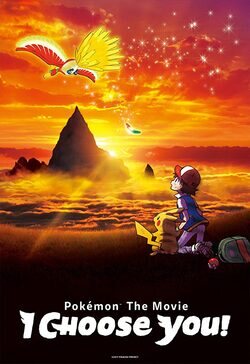 Info
Year: 2017
Saga: Pokémon
Original Title: Pocket Monsters the Movie: I Choose You!
Country: Japan
Length: 110 minutes
Genre: Animation, Adventure, Family
Studios:
View trailer
Release Dates
United Kingdom: November 05 2017
United States: November 05 2017
Ranking
Ranking: 530 out of 13,025 movies (up 433)
Plot
Ash Ketchum, 10, is the protagonist of this adventure. The young man from Pueblo Paleta is determined to embark on an adventure to an inhospitable region: Kanto. Its objective? Become the best Pokémon trainer in history. For it, it will have its companion Pokémon Pikachu, an electric mouse with which it did not make very good crumbs at first. In fact, the same Ash arrived late to the election of its initial Pokémon, reason why Professor Oak had to ingeníárselas so that the poor one did not remain with empty hands. This feature film will commemorate the 20th anniversary of the company and will premiere in Spain on November 5 and 6, 2017. Thanks to it we can deepen the relationship of these great friends.
Director
Cast Pokémon: I Choose You!
Videos
Photos
Trivia Pokémon: I Choose You!
The film retells Ash and Pikachu's meeting to celebrate the 20th anniversary of the Pokémon anime.
Although 'Pokémon' is a series that internationally renews it's theme song style regularly with new singers, fans in the Netherlands have successfully battled for the return of singer Herman van Doorn multiple times in the performance of the songs in the Dutch dubbing of the Pokémon series and movies. It is currently unknown whether The Pokémon Company will allow his return (September 2017).
Ash's hat in the movie appears to be a mix of his Kanto/Johto hat and Alola hat.
Recommended