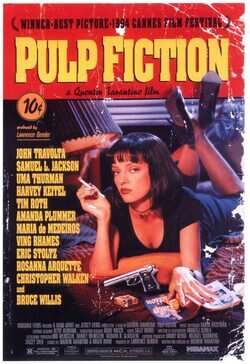 Write a review
Release Dates
United Kingdom: October 21 1995
United States: October 14 1994
Plot
The film is narrated in a non linear form. The main story is about Vincent Vega (John Travolta) and Jules Winnfield (Samuel L. Jackson), two hired murderers who have the mission of getting back a mysterious briefcase. Vincent confesses Jules that their boss, Marsellus Wallace (Ving Rhames) asked him to take care of his wife Mia (Una Thurman) while he is away, but he will have to be careful because it is rumored that he killed a man for touching his wife's feet. On the other side, Butch Coolidge (Bruce Willis), a boxer, is paid by Marsellus to lose on purpose in his next fight, but he ends up killing his opponent, so he has to run away from town. And last, the situation of the dinner, where a woman and his husband are trying to rob it. The film is written and directed by Quentin Tarantino and it is considered one of the most important films of the modern age of cinema. It won the Palme d'Or at the Cannes film festival in 1994 and won an Oscar for best screenplay.
Awards
Premios
Año
Nominaciones
Premios ganados
Academy Awards (Oscars)

1995
7
1
Director
Cast Pulp Fiction
Videos
Photos
Trivia Pulp Fiction
In several moments of the film, Vincent talks about his car, a Chevrolet Malibu from 1964. The fact is that the car belonged to Quentin Tarantino and it was stolen shortly after the shooting of the movie in 1994. It did no appear until 20 years later. Ironically, the later owner of the car, who bought it from a collector with no suspicion, he spent almost $40.000 to repair it, and the car later came back to Quentin two decades later.
Inside the briefcase there was two batteries and a lightbulb. Nothing else.
Most of the stars who appeared, such as Bruce Willis or Uma Thurman, recorded their scenes in the slots they were free from filming other films. To adjust the budget, every actor or actress got paid exactly the same. $20.000 per week.