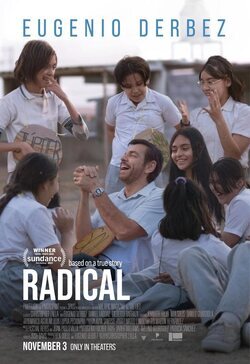 Title: Radical
Original Title: Radical
Year: 2023
Info
Plot
A teacher tries a new radical method with students in a school located in a Mexican border town full of corruption, child abandonment and violence. The method consists in unblock the curiosity and the potencial from the students, even their excellence.
An inspiring real story which is adapted in this movie directed and written
by Christopher Zalla
and starred by Eugenio Derbez, who plays the revolutionary professor.
The primary school from a violent Mexican village receives the new teacher who uses unusual methods to give hope to his students in order for them to offer everything they have to give, even when their circumstances and their atmosphere are not the best to live in. The professor tries to break the children's apathy and obtain their geniality.
Two years ago, primary students from Matamoros were evaluated as the worst students from all the country. However, their teacher transformed their reality although the adversities and the deficiencies the children faced. These same students went from being the worst to the best ones.
The cast includes actors such as Daniel Haddad and Gilberto Barraza and young artists like Jennifer Trejo, Mia Fernanda Solis, Danilo Guardiola Escobar and Víctor Estrada, among others.
Cast
Photos
Recommended movies and tv shows Radical