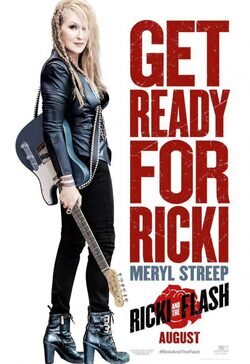 Write a review
Release Dates
United Kingdom: September 04 2015
United States: August 07 2015
Plot
Ricki (Meryl Streep) is the frontwoman of a cover band, that abandones her three children and her husband in order of pursuing her dream to become a rock and roll star. But years later she has to come back and face reality when one of her daughter is having a life crisis. Three times Oscar Winner, Meryl Streep, stars in 'Ricki and the Flash', a family drama in which she has worked with the director Jonathan Demme ('The Silence of the Lambs') and the screenwriter Diablo Cody ('Juno'), both Oscar winners.
Director
Cast Ricki and the Flash
Videos
Photos
Reviews Ricki and the Flash
Trivia Ricki and the Flash
Meryl Streep and Mamie Gummer are also mother and daughter in real life.
The guitar that Greg pawns is owned in the real life by the actor and singer who plays that part, Rick Springfield, and he composed his famous hit 'Jessie's Girl' with it.
'Ricki' is the third collaboration in the big screen between Meryl Streep and Mamie Gummer, who are mother and daughter. We've seen them before in 'Heartburn', Gummer's debut, and 'Evening'.