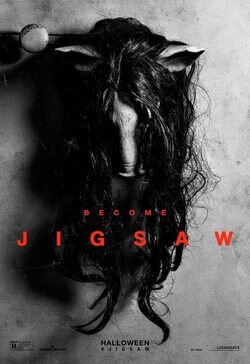 Write a review
Release Dates
United Kingdom: October 26 2017
United States: October 27 2017
Plot
The eighth film in the ?Saw? horror franchise. Despite stating ?Saw 3D? would be the final film in the series, due to it?s success, Lionsgate expressed their interest in producing yet another sequel: Jigsaw. The film focuses on a killer attempting to copy cat the games famous murderer, Jigsaw played 10 years before. The installment will be directed by the Spierig brothers: Michael and Peter, whilst the screenplay is written by Pete Goldfingerand Josh Stolberg whose projects in common include 'Sorority Row', 'Piranha 3D' and 'Piranha 3DD'. The plot will continue the events from the previous movie, and the story created by James Wan and Leigh Whannell. It is produced by Oren Koules ('Two and a Half Men', 'Saw II') and Daniel J. Heffner ('Saw', 'Saw III').
Directors
Cast Jigsaw
Videos
Photos
Trivia Jigsaw
This is the first 'Saw' film to be released later than a year after the previous film.
Although 'Saw VII 3D' was originally intended to be the final entry in the series, as early as 2012 Lionsgate had expressed interest in continuing the franchise, even contemplating rebooting the franchise for a time.
This 'Saw' movie will be the first one directed by more than one director.
Recommended