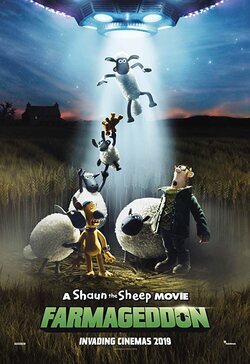 Write a review
Release Dates
United Kingdom: October 18 2019
United States: December 13 2019
Ranking
Ranking: 2,097 out of 16,027 movies (up 326)
Plot
On Mossy Bottom Farm, everything is as peaceful as ever despite Shaun the Sheep and the rest of the flock getting up to their usual mischief. Bitzer, the shepherd dog, does everything he can to keep them under control, though it gets harder and harder each day. Suddenly, some strange lights disturb the sky, announcing the arrival of some visitors from a galaxy far, far away. From this bright spacecraft descends an adorable alien called LU-LA that possesses some amazing powers that will turn Mossy Bottom Farm into a more cheerful place than it was before. LU-LA's unique abilities catch Shaun's eye, and so the sheep and the alien develop an unlikely friendship. Although LU-LA enjoys exploring this new world, she feels quite lost so far from her own and wants to go back home. Shaun and LU-LA decide to unite for an epic road trip to Mossigham Forest to find the lost spacecraft of the alien.vHowever, the mission will not be as easy as the duo hope, as LU-LA is chased down by a mysterious government organization trying their utmost to capture the extraterrestrial creature. Will this team, formed by the flock and led by Shaun the Sheep, succeed in their astronomical mission? It is a sequel to 'Shaun the Sheep: The Movie' (2015). This movie is directed by Will Becher ('Creature Comforts', 'Shaun the Sheep') and Richard Phelan ('Shaun the Sheep', 'Shaun the Sheep: The Movie'). Hide full plot... Show full plot
Awards
Premios
Año
Nominaciones
Premios ganados
BAFTA Awards

2020
1
-
Directors
Cast Shaun the Sheep Movie: Farmageddon
Photos
Reviews Shaun the Sheep Movie: Farmageddon
Trivia Shaun the Sheep Movie: Farmageddon
This is the first feature length sequel Aardman has ever produced.
Despite the trailer being shown before screenings of 'Early Man', the trailer never hit an online release until December 2018, ten months after the release of 'Early Man'.
In addition to 'Shaun the Sheep', the Aardman are also responsibles of the films 'Wallace & Groomit', 'Chicken Run' and 'Early Man'.