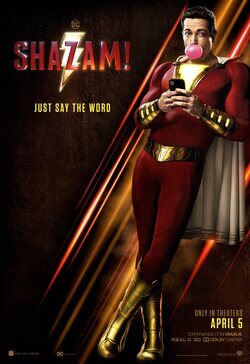 Write a review
Release Dates
United Kingdom: April 05 2019
United States: April 05 2019
Plot
Billy Batson, a 14-year-old boy living in Philadelphia and causing non-stop trouble for both social services and the local authorities in his search for his lost mother, is chosen by the Wizard Shazam to be his champion. Every time that Billy yells the word "SHAZAM!" he is transformed into an adult superhero. With his friend from the foster home, Freddy, Billy runs riot with his new powers, pushing them to their limits. However, the fun stops when Billy finds out that great powers come with even greater enemies. Billy's newfound nemesis is Dr. Thaddeus Sivana, a man who still harbours ill will towards the Wizard Shazam, who rejected Thaddeus as his champion years earlier, which resulted in Thaddeus choosing to harness the power of the Seven Deadly Sins (Greed, Pride, Lust, Gluttony, Envy Sloth and Wrath) instead. Billy soon realises that being a superhero comes with responsibilities as he must learn the true significance of his powers in the fight against Sivana. 'Shazam!' is directed by David F. Sandberg ('Lights Out') and stars Zachary Levi ('The Marvelous Mrs. Maisel'), Mark Strong ('Kingsman'), Asher Angel ('Andi Mack'), Jack Dylan Grazer ('Me, Myself and I'), Adam Brody ('The OC') and Djimon Hounsou ('Guardians of the Galaxy').
Director
Cast Shazam!
Videos
Photos
Trivia Shazam!
'Shazam!' is the first blockbuster for director David F. Sandberg. As well as his directorial debut outside of the horror genre.
"Shazam" is the magic word that turns Billy Batson into a superhero. Shazam is an acronym of the names of all the Greek gods that give him his powers: the "s" of Solomon (wisdon), the "h" of Hercules (strength), the "a" of Atlas (stamina), the "z" of Zeus (the power of creating lighting), the "a" of Achilles (will) and the "m" of Mercury (speed).
Originally, 'Shazam' was gonna tell the origin of the superhero and his nemesis Black Adam (played by The Rock), however, producers decided to separate both origin stories into to different movies.