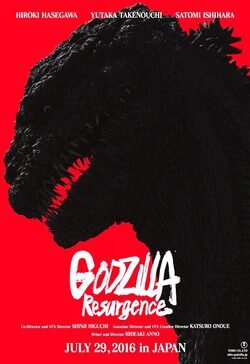 Write a review
Info
Year: 2016
Original Title: Shin Godzilla
Country: Japan
Length: 120 minutes
Budget: $63,900,000
Genre: Science fiction
Studios: Toho Company
View trailer
Release Dates
United Kingdom: August 10 2017
United States: October 12 2016
Ranking
Ranking: 448 out of 12,813 movies (up 1052)
Plot
'Shin Godzilla' is the 31st in the Toho Godzilla franchise, and the latest attempt to reboot the series. The story follows the events occurred in 'Godzilla' ('Gojira'), where the most feared monster of Japan kept submerged in the deepest waters of the Pacific Ocean. One day, an water eruption in the Japanese bay frightens the government officials, who actually believe that the phenomenon is a volcanic eruption indeed. However, the aquatic phenomenon turns out to be the prelude of the giant monster's arrival who threats to destroy Tokio. Soon the Government tries to calm the people, but it is too late. The monster has arrive to the city. A group of volunteers will investigate the monster's weaknesses in order to defeat it and safe the city in a race against time. Directed by Hideaki Anno. Starring Hiroki Hasegawa, Yutaka Takenouchi, Satomi Ishihara, Ren Ohsugi, and Akira Emoto. Hide full plot... Show full plot
Director
Cast Shin Godzilla
Videos
Photos
Trivia Shin Godzilla
Godzilla's design in this film is mostly based on his design from the original film from 1954.
The title 'Shin Gojira' was chosen for the film due to the variety of meanings the syllable "shin" ("new", "true", and "god").
The actor Hiroki Hasegawa immediately accepted a role in the film, stating, "Who wouldn't want to be involved in a Godzilla production?"
Recommended