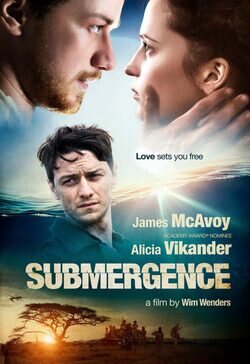 Write a review
Release Dates
United Kingdom: May 18 2018
United States: April 13 2018
Plot
Wim Wenders directed this romantic thriller, based on a screenplay by Erin Dignam, adapting the novel by J.M. Ledgard. Starring Alicia Vikander and James McAvoy, the film shows us James More, an intelligent hydraulic engineer who knows Danielle 'Danny' Flinders, one biomathematics who is obsessed with finding the origin of life on the planet and she has developed a project of immersion in the waters of very deep into the oceans to prove that her theory about the birth of life on Planet Earth is real. Accidentally, both meet at a hotel on the French coast, starting a passionate and sentimental relationship. The two find themselves in the love of their lives, the problem will arise when James is kidnapped in Somalia hostage by a group of jihadist radicals who doubt if a spy in the UK. Meanwhile, Danny will continue its dangerous dive plan.
Director
Cast Submergence
Videos
Photos
Trivia Submergence
In the novel, Danielle Flinders is described as a mixed-raced woman. Her father is Australian and her mother is from Martinique, a country where 90% of the population is black. An excerpt from the novel says this about Danielle; "In her complexion and variety of dress and habits and manners there was something of her mother's Creole background". Swedish actress Alicia Vikander was cast for the role.
Alicia Vikander played the love interest of Michael Fassbender, James McAvoy's co-star in the 'X-Men' franchise, in The Light Between Oceans (2016). Charlotte Rampling also costarred with Fassbender in 'Assassin's Creed' (2016).
It is based on the J.M. Ledgard's novel.