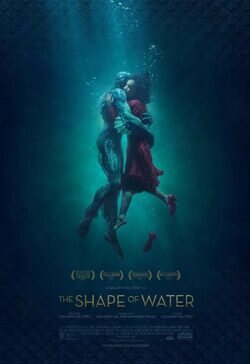 Write a review
Release Dates
United Kingdom: February 14 2018
United States:
Plot
Directed by Guillermo del Toro, this film is set in 1963, during the Cold War. Elisa is a woman who works as a janitor in a laboratory. One day there meeting a stranger amphibious man who is locked in the premises of the laboratory, the scientists are investigating and experiment with him. Gradually, they both get to know and she will end up falling madly in love with mysterious amphibian man. To end his captivity, Elisa outlines a plan to free the strange creature. For the plan to succeed, Elisa will have the help of a neighbor in her community. However, the outside world will be much more dangerous for the amphibious man what Elisa had thought and the consequences of her acts can be devastating. Starring Sally Hawkins, Michael Shannon, Richard Jenkins, Octavia Spencer and Doug Jones.
Awards
Premios
Año
Nominaciones
Premios ganados
Academy Awards (Oscars)

2018
14
4
Golden Globes

2018
8
2
BAFTA Awards

2018
13
3
Director
Cast The Shape of Water
Videos
Photos
Reviews The Shape of Water
Trivia The Shape of Water
Most of the characters were written for an actors they imagine in their minds. Octavia Spencer told that her character is a mix between her role in 'The Help' and 'Hidden Figures'.
The film has similarities with the Soviet Alexander Belyaev 'Amphibian Man'
Guillermo del Toro who is the director said about Sally Hawkings: "Not only was she the first choice, she was the only choice. I wrote the movie for Sally, I wrote the movie for Michael [Shannon]... Sally is, I wanted the character of Elisa to be beautiful, in her own way, not in a way that is like a perfume commercial kind of way. That you could believe that this character, this woman would be sitting next to you on the bus. But at the same time she would have a luminosity, a beauty, almost magical, ethereal."