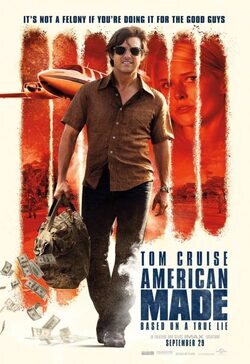 Write a review
Release Dates
United Kingdom: August 25 2017
United States: September 29 2017
Ranking
Ranking: 464 out of 16,397 movies (up 539)
Plot
Biopic that portrays the life of Barry Seal, a former pilot from TWA (Trans World Airlines, the largest airline company in United States) who went to work for the CIA (Central Intelligence Agency) and the DEA (Drug Enforcement Administration) after becoming one of the most wanted drug traffickers US security forces. His recruitment into the security forces came by the Iran-Contra scandal, also known as Irangate. This case was about to cost the job to the American president Ronald Reagan, who had already been involved in other political scandals. Seal was part of the Medellin cartel in the 80's, where he demonstrated his exceptional skills as a pilot drug moving to another location, always going unnoticed and unpunished. The life of this peculiar personage finished in 1986, when it was assassinated at the hands of the Colombians in Baton Rouge (Louisiana), the place where he was born, when they found out he was acting like a double agent. The crime thriller film is starring by Tom Cruise ('Mission: Impossible - Rogue Nation'), Domhnall Gleeson ('Ex machina'), Jayma Mays ('Larry Gaye: Renegade Male Flight Attendant'), Sarah Wright ('Walk of Shame'), Jesse Plemons, Lola Kirke, Brandon Stacy and Caleb Landry Jones, among others. Gary Spinelli writes the script of this film directed by Doug Liman ('Mr. and Mrs. Smith ', 'Fair Game'), who worked with Cruise in 'Edge of Tomorrow'. Produced by Cross Creek Pictures, Imagine Entertainment, Quadrant Pictures and Vendian Entertainment. The filming was done in different locations around the United States like Atlanta and in Medellin, Colombia. As if that were not enough, this is not the first tape produced on this character. In 1991, HBO released a movie called 'Doublecrossed', which featured Dennis Hopper ('Swing Vote'). A few years later, in 2001, journalist Daniel Hopsicker drew a book that also dealt with the subject and questioned the role of current political leaders: Barry & 'the Boys': The CIA, the Mob and America's Secret History.
Director
Cast American Made
Videos
Photos
Trivia American Made
Doug Liman directed Tom Cruise in 'Edge of tomorrow'.
Was featured on the 2014 Black List of the most liked un-made film scripts.
First film together Tom Cruise and Sarah Wright