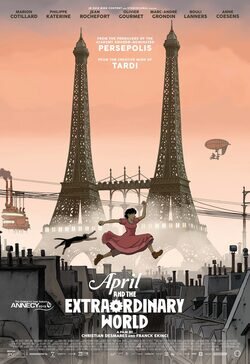 Write a review
Release Dates
United States: March 25 2016
Ranking
Ranking: 2,201 out of 16,356 movies (up 1489)
Plot
The twisted world Avril lives in is an alternative to the France we know in which, at the verge of the French-Prusian War, leader Napoleon III shows up in a laboratory that is investigating to make invulnerable super-soldiers. The meeting ends up in a tragic accident, which causes Napoleon V to assume the charge as a new leader. Europe then starts to suffer an energetic shortage and soon turns into a place invaded by pollution . Years later in those deplorable conditions, in 1941, France has adopted a Steampunk style, and scientists are beginning to disappear in mysterious circumstances. Avril (Marion Cotillard) will start an adventure in the search for her parents, who are scientists as well, and will try to find out the origin of the kidnaps.
Directors
Cast April and the Extraordinary World
Avril
Pops
Paul
Photos
Reviews April and the Extraordinary World
Trivia April and the Extraordinary World
The film based on graphic novels by Jacques Tardi , also a graphic designer on the film.