Best. Christmas. Ever!
2023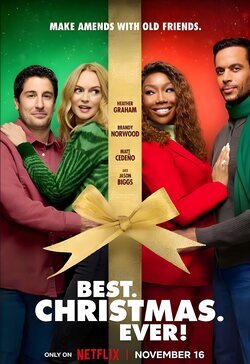 Title: Best. Christmas. Ever!
Original Title: Best. Christmas. Ever!
Year: 2023
Info
Country:

USA

Language: English
Length: 82 Minutes (1 hour 22 min)
Topic: Christmas
Distributor: Netflix
Age rating: PG (Parental guidance)
Release Dates
UK: November 16 2023
United States: November 16 2023
Plot
'Best. Christmas. Ever!' is an American christmas romantic comedy directed by Mary Lambert with a script penned by Todd Gallicano and Charles Shyer. The film, released by Netflix on november 2023, stars Heather Graham, Brandy Norwood, Matt Cedeño and Jason Biggs.
The plot is centered around
two families
: the Sanders, where Charlotte (Graham) is the mother and head of family, and the Jennings, where Jackie (Norwood) is the matriarch. Charlotte and Jackie are old college friends and almost haven't seen each other since, altough every year Charlotte is
jealous of the apparent perfection of Jackie's Celebrations
with carefully created decorations and a Christmas letter where she tells all of the good things of her family. For Charlotte, all of this can't simply be true compared to their simple, boring and normal Christmas.
Grant, Charlotte's son, doesn't understand his mother's sarcasm and changes the GPS of the car to end up at the Jenning's House to spend Christmas. There, Charlotte can't behave and starts to investigate what are the family's secrets, in theory so perfect, and where are their flaws.
'Best. Christmas. Ever!' didn't convince the critics, being qualified as one of the generic Christmas movies that are released every year.
Listings
'Best. Christmas. Ever!' is showing in 1 today, including:
Cast
Director:
Mary Lambert
Photos
Recommended movies and tv shows Best. Christmas. Ever!