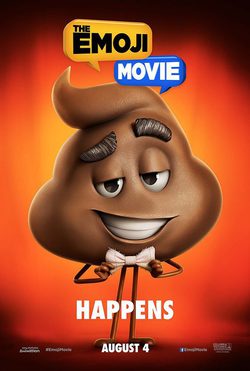 Write a review
Release Dates
United Kingdom: August 04 2017
United States: July 28 2017
Ranking
Ranking: 1 out of 12,803 movies (up 8)
Listings
'The Emoji Movie: express yourself' is showing in 140 theaters across the UK today. View Full Listings
Plot
Known film based on the whatsapp emoticons. According to the director, Anthony Leodis ( 'Igor', the short film 'Kung Fu Panda: Secrets of the Masters'), the plot will follow the steps of emoticons inside a mobile phone, where there is a secret world. To find out, we enter the world of the 'Emoji' through the text tool, and there we discover the Emoji Valley; where the emoticons live and work. Meanwhile, the president of Sony Pictures Motion Picture, Tom Rothman, welcomed the agreements with major brands of virtual apps, delving into the "vital importance of maintaining a commitment to originality". This is the case of Spotify, the streaming music app that has become the first smartphone application that has signed an agreement to transfer their rights to the film. Anthony Leondis own co-write the script with Eric Siegel, while production is carried out by Michelle Raimo ( 'The good side of things'). Hide full plot... Show full plot
Director
Videos
Latest News
OLÉ
La espectacular actriz colombiana dará su voz al personaje de la Bailarina de Flamenco en la nueva película de animación de Sony Pictures protagonizada por emoticonos.
20 de April 2017 | 17:51
Photos
Reviews The Emoji Movie: express yourself
Trivia The Emoji Movie: express yourself
La historia transcurre dentro de un smartphone, los emoticonos son los protagonistas de la película y las diferentes apps del teléfono son como los universos en los que pueden viajar los personajes.
Una de las apps donde viajarán, será Spotify.
El trailer oficial en YouTubetiene, cerca de 106.000 no me gusta, frente a 10.800 me gusta.
Recommended