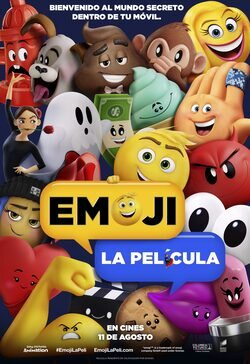 Write a review
Release Dates
United Kingdom: August 04 2017
United States: July 28 2017
Plot
Known film based on the whatsapp emoticons. According to the director, Anthony Leodis ( 'Igor', the short film 'Kung Fu Panda: Secrets of the Masters'), the plot will follow the steps of emoticons inside a mobile phone, where there is a secret world. To find out, we enter the world of the 'Emoji' through the text tool, and there we discover the Emoji Valley; where the emoticons live and work. Meanwhile, the president of Sony Pictures Motion Picture, Tom Rothman, welcomed the agreements with major brands of virtual apps, delving into the "vital importance of maintaining a commitment to originality". This is the case of Spotify, the streaming music app that has become the first smartphone application that has signed an agreement to transfer their rights to the film. Anthony Leondis own co-write the script with Eric Siegel, while production is carried out by Michelle Raimo ( 'The good side of things').
Director
Cast The Emoji Movie: express yourself
Videos
Photos
Reviews The Emoji Movie: express yourself
Trivia The Emoji Movie: express yourself
The story goes on inside a smartphone, the emojis are the protagonists of the film and the different apps on the phons are like universes in which the characters can travel.
One of the apps where they travel will be Spotify.
The official trailer on YouTube has, nearly 106,000 dislikes as opposed to only 10,800 likes.