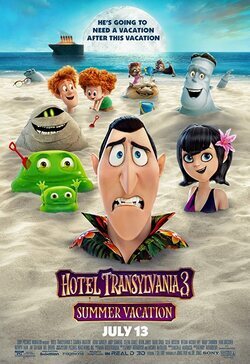 Release Dates
United Kingdom: July 27 2018
United States: July 13 2018
Ranking
Ranking: 24 out of 14,049 movies (up 9)
Plot
In this new 'Hotel Transilvania' film the vampire and his family will not keep wait for you to embark on the ship of dreams (or your worst nightmares). Drac needs to have an urgent vacation and he decides to leave on a relaxing cruise that Mavis have prepared for him (along with the rest of the monsters from the hotel). It's time for the boss to worry about his own personal relax and stop thinking constantly about the others well-being. What seems to start as a relaxing break ends up getting wild for the inhabitants of the hotel, who can't stop enjoying: volleyball, sunbathing (or moonbathing), etc ... Everything will become a nightmare when Drac becomes interested in the captain of the yacht, Ericka. Mavis must protect the family because, despite appearances, Ericka keeps a terrible secret that could put everyone in danger.
Director
Cast Hotel Transylvania 3: Summer Vacation
Videos
Photos
Trivia Hotel Transylvania 3: Summer Vacation
The saga director, Genndy Tartakovsky, stated that after then end of 'Hotel Transylvania 2' his interest in the franchise was over. However, in june, 2016, Sony released a statement confirming Tartakovsky's return to directing the third movie.
'Hotel Transilvania 2' (2015) was released the same year as 'Jurassic World' (2015) and 'Hotel Transylvania 3: Summer Vacation' (2018) will be released the same year as it's sequel 'Jurassic World: Fallen Kingdom ' (2018).
'Hotel Transylvania 3: Summer Vacation' will be the first animated film for the actress Kathryn Hahn, even though she had previously done voice over work in Animated TV Shows.
Recommended