Killers of the Flower Moon
2023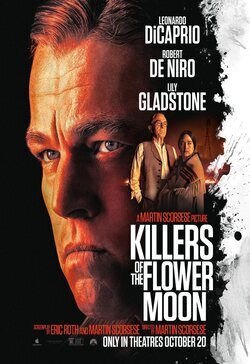 Title: Killers of the Flower Moon
Original Title: Killers of the Flower Moon
Year: 2023
Info
Country:

USA

Language: English
Length: 206 Minutes (3 hours 26 min)
Budget: $200,000,000
Topic: Murder Racism Native American
Studios: Appian Way Apple Studios
Distributor: Paramount Pictures
Age rating: 15 (Suitable only for 15 years and over)
Release Dates
UK: October 20 2023
United States: October 20 2023
Plot
In the beginning of the 20th century the Osage Nation discovered oil in North America and managed to obtain a fortune, becoming one of the richest people on Earth. This sudden wealth caught the attention of white intruders that manipulated, extorted and stole to obtain their achievements, and finally killed them. Based on true events, 'Killers of the Flower Moon' inspires in the homonym novel by David Grann and narrates a tragic story of crime in the wild West through the perspective of an improbable romance, that of the white Ernest Burkhart with osage Mollie Kyle. True love, treason and power cross their paths in this story directed by the Oscar winner Martin Scorsese.
Scorsese ('Taxi Driver', 'GoodFellas', 'The Irishman') writes the script with Eric Roth ('Forrest Gump', 'Dune', 'The Curious Case of Benjamin Button') in this production by Apple Studios.
The cast stars
Leonardo DiCaprio, Robert De Niro, Lily Gladstone, Jesse Plemons, John Lithgow, Brendan Fraser, Tantoo Cardinal, Cara Jade Myers, JaNae Collins, Jillian Dion and Pat Healy. Photography is lead by
cinematographer
Rodrigo Prieto, who already worked with Scorsese and DiCaprio in 'The Wolf of Wall Street' and has participated in films like 'Brokeback Mountain', 'Babel', 'Argo' and 'Passengers'. He's been Oscar nominated three times.
Listings
'Killers of the Flower Moon' is showing in 3 today, including:
Cast
Director:
Martin Scorsese
Videos
2:32
1:50
1:50
Photos
Trivia
Book adaptation
Martin Scorsese said that when he read David Grann's book "Killers of the Flower Moon," he knew that he had to make it into a movie. Scorsese spent several hours together with Chief Standing Bear to convince the Osage Nation to help with the filming.
Veteran partners
This will be the seventh collaboration between Martin Scorsese and Leonardo DiCaprio and will also mark the eleventh collaboration between Scorsese and Robert De Niro if the short film The Audition (2015) is taken into account.
DiCaprio's improvisations
Robert De Niro was bothered by Leonardo DiCaprio's frequent improvisations; According to Martin Scorsese, "Every now and then, Bob and I would look at each other and roll our eyes. And we'd say, 'You don't need that dialogue.'"
Recommended movies and tv shows Killers of the Flower Moon