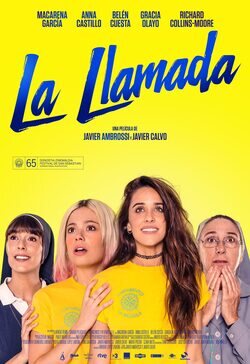 Write a review
Plot
María and Susana are two young girls who love partying and the musical style electro latino, spending their summer in a camp ruled by nuns called La Brújula. The camp, located in Segovia, is an isolated and peaceful place surrounded by nature. Their love for party and electro latino music pushes them to sneak out of the camp at night, searching for disco-bars in the towns nearby in order to have fun, but always trying not to be caught by sister Bernarda and sister Milagros. These nuns are trying to save the camp with their son 'Viviremos firmes en la fe'. However, one night that they have run away, María has a divine vision in which God himself shows up before her. And it seems that God loves Whitney Houston.
Awards
Premios
Año
Nominaciones
Premios ganados
Goya Awards

2018
7
1
Feroz Awards

2018
6
2
Director
Cast La llamada
Videos
Photos
Trivia La llamada
The director showed Almodovar the film to get his approval. He told them they were really lucky with the actress: "anyone can write whatever they want, but there has to be a group of actress facing it, making the screenplay gun, thrilling and credible".
Spanish singer Leiva was in charge of the OST.
The Javis weren't sure they could make the film true. In fact, they contacted some filmmakers to direct the movie. But, finally, they took the quote oh the main roles "We make it and we'll see" and directed 'La Llamada'.